Grow Your Practice with The 5 Element Theory
The 5 elements theory in TCM is my favourite theory! It can explain so much, go to the root of the problem, and help practitioners figure out what system is affected and why. But surprisingly, the 5 Elements theory is also applicable in growing a thriving practice!
As you and I know Wood generates Fire, which in turn generates Earth, Metal, Water and of course we need Water to generate Wood. Let's look at how using this specific 5 elements sequence, can help you grow a very successful practice.
All 5 element aspects are necessary in order to really work!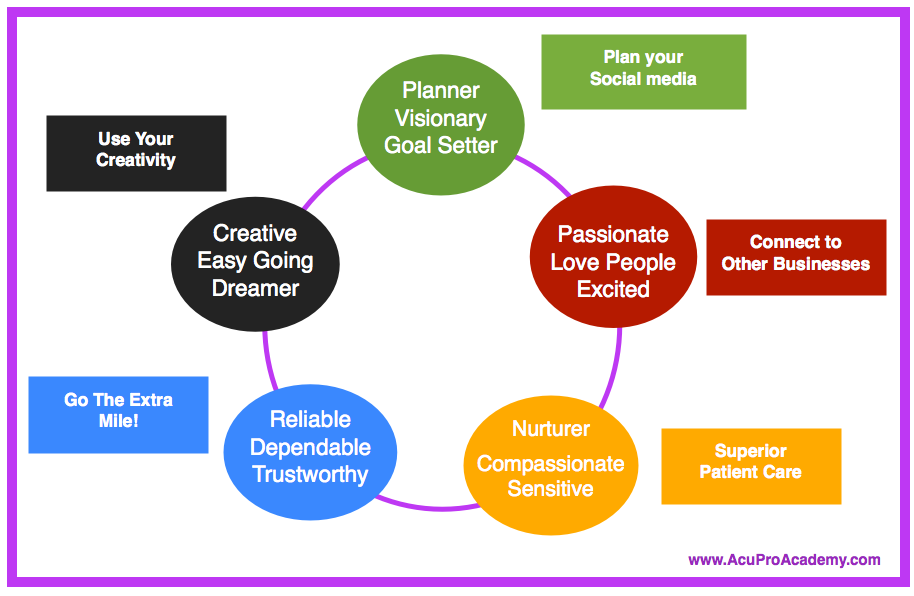 Wood Personality: Planner, visionary, goal setter.
Application: It's crucial to have a plan, and write it down. At the beginning of each year, I set goals for my practice. I plan which seminars I will attend, what I'd like to accomplish, how many patients/week I'd like to treat, what is my income, how many women will I help get pregnant, and I reflect on what has worked and what needs to improve. I also usually plan how many blog posts I will write or videos I will record, and what subjects I'd like to educate my patients on. I set measurable goals, with dates! This process usually takes half a day, but it's worth it, because it really shapes how thriving and exciting my career is!
Business Tip from the Wood Element: Start planning today!


Do you have a Facebook page? Then every Thursday morning (Choose whatever day is best for you), your task is to schedule your posts in advance. If you post daily, then you need 7 posts. Always promote another business in your area once/week; promote your blog post, your services or your own event once/week; then give great content to educate, entertain or inspire your fans in the other 5 posts.

Fire Personality: passionate, loves people, excited!
Application: In order to grow a successful practice, you need to connect to others and show them how passionate you are about TCM! Because it's the bomb! There are 2 ways to connect and excite people about your services and how amazing you are. Online and offline. I take time to connect to people on social media by commenting, sharing and liking their posts, and I make sure my bio on my website reflects who I am, so potential patients feel a connection. When it comes to offline, this is harder on introverts, but so worth getting out of our comfort zone. I give talks and presentations to educate the public, I tell everyone I meet how I love my career (I think the barista at my local coffee shop knows everything about acupuncture now!). I am passionate and genuine about what I do, and it reflects in how I interact with others on a daily basis.
Business Tip from the Fire Element: Connect!


Are you an extrovert? Call your local community centre or local health food store, and tell them you'd love to give a FREE talk on Eastern Nutrition. Talk about cold versus hot foods: and bring 2 recipes, a cooling one and warming one.
Are you an introvert? Connect to local peeps on Social Media, share their posts, comment and give positive feedback on Twitter and Facebook. Take 15 minute daily to make sure others know who you are and what it is you can help them with.

Earth Personality: compassionate, nurturing and sensitive
Application: this is why we all get into this field, to help others! Over the years, I have treated patients on Christmas eve, weekends (even though I don't work), at 6 am and 10 pm. Do I do this often? No, I understand boundaries. But I also know the reason I choose this career is because I genuinely want to help others, and sometimes I will go out of my way to make a difference in someone's live because it feels right! I have cried of joy and sadness with many of my patients. I have worried about some of them, and I've hugged many. This has resulted in constant referrals, because patients appreciate true compassion and understanding.
Business Tip from the Earth Element: Patients Care


Always give a curtesy call to every new patient within 48 hours of their first visit. Inquire how they felt after treatment, ask them if they have questions. Patients will really appreciate you taking the time to check on them, because you truly care.
Metal personality: Trustworthy, Strong, dependable, reliable.
Application: being an authority in your field, a trustworthy and dependable practitioner is a very important part of a strong sustainable business. I'm always early before I start my day, I set up everything I need for THAT day. I make sure I am always on time with my patients and if I am 5 minutes late, I apologize. I always answer emails within 24 hours, and return phone messages within 3 hours. If I cannot help someone, I tell them point blank! I have referred potential patients to other practitioners I think would be better suited to their needs or locations. When one of my patient moves away, I take the time to look up a practitioner in her new town and connect with that person to see if she/he would be a great fit for my patient. Go the extra mile, be dependable, follow through and your practice will sore.
Business Tip from the Metal Element: Go the extra mile!


Vow today to be on time with your patients, and return all messages in a timely manner. And when you're on holidays for more than a week, arrange for a locum. Have a group of practitioners you can refer your patients to: a Massage therapist, a chiropractor, a counsellor, a naturopath and anyone you really trust to contribute to your patients' care. And always thank someone when they refer a new patient to you by sending a card, an email or offering a free treatment.
Water Personality: Creative, easy going, dreamer.
Application: Being creative, easy going and adaptable to change will make you stand out and eliminate competition. I had so much fun creating my own website, my wellness centre website, and my AcuPro Academy's one. I create Facebook post graphics daily and really enjoy it! I give a welcome letter to all new patient with my hours, a free infrared sauna session, and a healthy recipe. I have decorated my treatment rooms to create a warm soothing environment. I have patients that are consistently late and I just go with the flow and try not to let it bother me. I keep learning to adapt to technology and its constant change. If I get a cancellation in the middle of my day, I use it to be productive instead of getting upset. Be creative in your service promotions, be different, unique, be yourself and go with the flow when difficulties arise.
Business Tip from the Water Element: Be Creative!


Get your creative juices flowing and come up with a great way to promote your services!
As an example, make a poster with a picture of a injured runner and one that runs injure free, with a caption like: "After Acupuncture, Run Injury Free!". Then print many copies, and post them in your local businesses bulletin boards. Make an educative e-book to give your patients or wear a T-Shirt that says: "Keep Calm and Try Acupuncture". Have fun with it and you and your practice will stand out from the crowd.
Go ahead, use the 5 elements theory to grow your practice to the next level! Take action today, plan, connect, nurture, follow through and create the amazing practice you're meant for!

And Keep Rocking it using TCM!
Clara
TCM Geek