TCM Case study on Insomnia
Emotional stress plays a huge role in our health, and often a particular event may disturb the mind and create insomnia. Acupuncture works so well to calm the mind! I absolutely love it, as I see the amazing effect it has had on patients, over the years. Check out the following case study and let me know what you think 🙂
Keep rocking it with TCM!


Clara




TCM Geek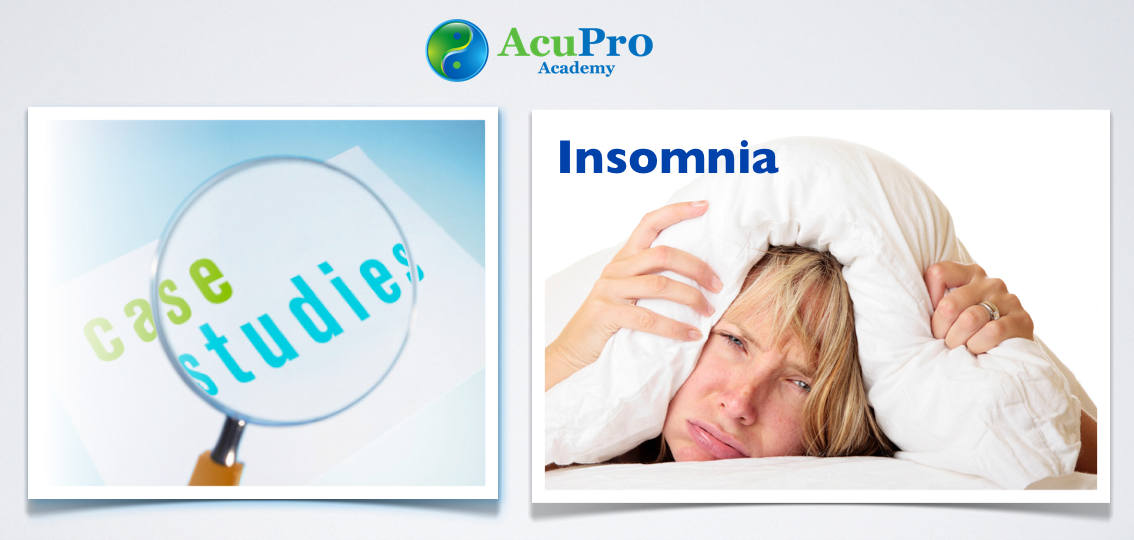 Female:
31 yrs old
Chief complaint

: Insomnia with constant fear and easily startled


History:

6 months ago, the patient's house had been burglarized in the middle of the night when she was sleeping; no physical arm was done to her. Since then, she has insomnia with dream disturbed sleep, wakes up many times from midnight to 3 am. Whenever she hears a noise, she gets palpitations and jumpy; she also feels like someone is following her where ever she goes.
Other symptoms:

temporal headaches, vertigo with nausea, her menses are regular, shoulder tension all the time (Trapezius area), sweats easily during the day especially when she feels scared, very fatigued.
On observation:

the patient is quite shy, has a difficult time answering questions and deciding if she has the symptoms asked.

Tongue:

pale tongue with greasy coat.

Pulse:

wiry (left middle position), slippery (middle right position), weak overall.

Cause: Emotional Stress affecting the Heart Mind & creating Paranoia
TCM Diagnosis:
 HT Qi def., Phlegm in GB impairing Qi flow.
Symptoms differentiation:
Insomnia (HT mind – Shen is disturbed due to emotional trauma), dream disturbed sleep (HT & GB) & waking up around Midnight & 3 am (GB & LV time)

Palpitations (HT), Jumpy (HT & GB), Feels like someone follows her (Paranoia – Phlegm in GB).

Temporal headaches & tight shoulders (GB meridian is blocked)

Vertigo with nausea (Phlegm in GB)

Sweats easily during the day (HT Qi Def.), Fatigued (Qi def.)

Can't make decision and she's shy (GB)

Wiry (left middle position): Qi stagnation (LV & GB), slippery (middle right position): Phlegm, weak overall (Qi def.)

Tongue: Pale (Qi def.), greasy coat (Phlegm).

Tx principles:
 Tonify HT Qi, Move LV & Gb Qi, Transform Phlegm and calm the mind.
Acupuncture points
HT 7, Ear Shen Men, Yin Tang to calm the mind

Gb 34 (Move GB Qi), LV 3 (move Lv Qi)

ST 40 to transform Phlegm, Du 24 for vertigo.

Gb 40 to relieve temporal headaches, GB 21 for shoulder tension

BL 62 Ghost point to help relieve emotional trauma & help sleep.

18 needles twice/week for 3 weeks, then 1/week (took out Bl 62 & Gb 40 as the headaches stopped). She slept better, vertigo disappeared, but still dreamed, I added GB 35. Then she came every 2 weeks for 3 more sessions. Was more relaxed and less jumpy. Her paranoia subsided and she finally slept without being disturbed by dreams.